If your toddler is anything like mine they probably LOVE the Wheels on the Bus song. I thought what better way to help her make the connection between the song and a bus then by buying her this adorable School Bus Set by Melissa and Doug.
We absolutely adore Melissa and Doug products. They are so well made and durable I just know we will have this toy for years to come! This bus includes 7 people, a school house and a bus stop.
We love singing the song and using the bus to help us act out the certain parts of it. Highly recommend for your little one!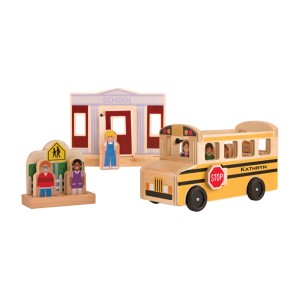 Does your little one love Wheels on the Bus?
Sincerely,
Los Angeles Duckling